Highlighting Heitor Villa-Lobos (Brazilian Composer)

Heitor Villa-Lobos (1887 – 1959) was a man who personified Brazil's quest for progress in the early 20th century.  Villa-Lobos' drive to create unity through music as well as a national awareness for music education became his legacy.  Leaving behind musical compositions that would challenge future musicians, Villa-Lobos also changed a society with his involvement in Brazilian education.
Audio Performances of Works by Villa-Lobos
Bachianas Brasileira n.5 featuring vocalist Anna Moffo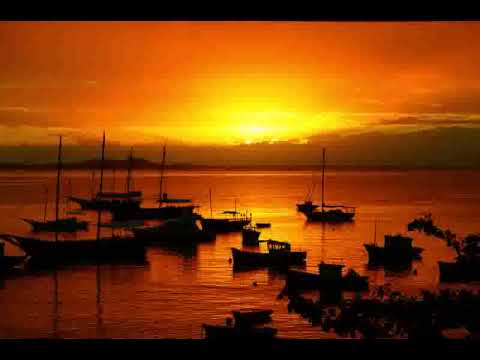 Choro No. 1 (for piano)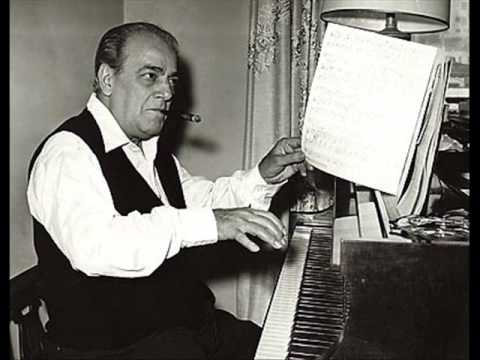 Biography
Born in Rio de Janeiro in 1887, Villa-Lobos was brought up learning cello, guitar and clarinet.  With his father's death in 1899, Villa-Lobos turned to performing music for monetary survival.  Performances included playing with Brazilian chorões, which were groups of street musicians.
During the time of Villa-Lobos' youth, many political and social challenges were occurring in Brazil.  The progressive and reforming political slogan of "Order and Progress" would begin to break down the social barriers within the country.  Brazilian art would now become free to explore its own traditions and forego European influence.
With artistic freedom, Villa-Lobos began to venture into the traditions of Brazil and seek native folksongs and sounds that made Brazil unique.  Spending two years wandering the countryside of Brazil made a definite impact on Villa-Lobos.  Although there are conflicting reports as to the factual length and whereabouts of Villa-Lobos' excursion (Wright), one can not negate the unique and Brazilian sound specific to a mature Villa-Lobos composition.  Inclusion of folksong themes and dances permeate the compositions of Villa-Lobos.  Other thematic threads of commonality include mortally wounded birds and the concept of dawn.
Being that Villa-Lobos was an orchestral cellist, his first known compositions were written for cello.  Furthering his writing technique and performing abilities, Villa-Lobos began to create guitar compositions.  His early compositions are highly influenced by Chopin, Schumann Stravinsky and David Popper.  Following the 19th century Brazilian music focus, Villa-Lobos' turn of the century compositions were romantic in sound and style.
As the 1914 political climate continued to change and freedom of musical choice became feasible, Villa-Lobos found his creative niche by writing compositions that incorporated Brazilian characteristics.  Through displays of dance-like motifs or dark and violent rhythms, Villa-Lobos began to duplicate the sound of Brazil in music.
By 1917 Villa-Lobos had written compositions for piano and orchestra.  With "incomprehensible sounds expected of them" (Wright 19), string sections found Villa-Lobos' music challenging.  Villa-Lobos' Amazonas is an example of his challenging writing.  Musicians were asked to create a Brazilian landscape of sound through various technically difficult sounds.  Challenging the European romantic tradition that had permeated Brazil's music scene, Villa-Lobos began to open the door for new symphonic sounds in South America.
Continuing to compose with the sound of a Brazilian landscape, Villa-Lobos wrote various works including piano suites (such as A Prole do Bebe, 1918), and large scale masses (such as Vida Pura, 1919).  With his usage of "sound block(s)" (Wright 41), Villa-Lobos painted his musical version of Brazil with colorful uses of poly-rhythms, shocking dynamic contrasts and unique instrumental combinations.
When referring to Villa-Lobos' sojourn to Paris in 1923, Robert Sabin of Musical America wrote that Villa-Lobos went to Paris "to show what he had accomplished" (Bagar and Biancolli 801).  This trip not only opened the listening audience of Paris, but it also marked the end of Villa-Lobos' gathering of Brazilian music ideas.  Paris was ripe for new musical sounds as the rest of Europe was being introduced to French composers such as Darius Milhaud.  Returning for a short stay in Brazil, Villa-Lobos found himself back in Paris (1927 – June 1930) with his numerous artistic friends (i.e. Edgard Varese, Aaron Copland and Picasso).
By October 1930, Brazil was under the control of a dictatorship.  Due to politically-enforced financial constraints in Brazil, Villa-Lobos was unable to return to Paris.   Seeking a creative outlet, Villa-Lobos became involved with the Department of Musical Arts Education.  Here, Villa-Lobos spent ten years of his life developing the musical teaching of the everyday Brazilian.  Open concert series, premiere performances of historically important musical works (i.e. Bach's B Minor Mass), and educational materials for public schools were developed to conjure Brazilians interest in music.  More specifically, Brazilians began to find themselves as a people and nation, independent of outside influences.
With this development of nationalistic style, Villa-Lobos wrote his most famous work: the Bachianas Brasileiras (1930 – 1945) cycle.  Taking compositions throughout a fifteen year period, Villa-Lobos wrote this song cycle based on Bach's ternary techniques, and thematic figuration.  Various instrument ensembles, imitations of nature, and Baroque technique combine to make this a timeless work.  Written without a song cycle in mind, these works display changes in Villa-Lobos' sound textures and musical ideas throughout 1930 – 1945.
1945 brought the end of Getulio Vargas' dictatorship in Brazil.  With his freedom, Villa-Lobos began to tour as an "unofficial Brazilian Ambassador of Art" (Wright 119).  Having re-made his base back in Paris, Villa-Lobos toured throughout Europe and the USA. Commissions became so plentiful that Villa-Lobos was constantly writing and had very little time to conduct his works.  Contrary to his increasing collection of works, Villa-Lobos began to decline in his health.
Concerto writing became a prominent style of writing after 1945.  Cinematographic in approach (Wright 125), Villa-Lobos' composition style became less exotic than found in his earlier works.  One can speculate that the purer sound may have been a result of the laborious task of prolific writing while in poor health.
Cancer was diagnosed in Villa-Lobos during 1948.  That same year, Villa-Lobos wrote four extensive works, including Fantasia para Saxophone.  Dedicated to the famous classical French saxophonist, Marcel Mule, Fantasia was premiered November 17, 1951 in the Auditori do Ministerio da Educacao e Cultura with Villa-Lobos conducting the Chamber orchestra and Waldemar Szilman as soloist (Appleby).
In the last ten years of his life, Villa-Lobos made many excursions into small Brazilian to perform benevolent concerts.  Constantly trying to open up the musical understanding of his countrymen, Villa-Lobos made every effort to make music available to everyone.  It was with this priority in life that Villa-Lobos made a historical mark on the society of Brazilians.  Having become such a significant member in Brazilian culture, Villa-Lobos' funeral was the last major civic event in Rio de Janeiro as Brazil's capital city.  Even though the capital city of Brazil is now Brasilia, Brazilians have kept the music of Villa-Lobos alive with its Museum of Culture, dedicated to Villa-Lobos, based in Rio de Janeiro.
To date, many books and web-sites have been dedicated to the life and works of Villa-Lobos.  With his evolution of style reflecting the political, social and artistic ideas of Brazil, Villa-Lobos' works are sound-scapes of historical Brazilian life.  Villa-Lobos' intrinsic musical ideas sought not only to release the creativity within himself, but to bring unity to his nation of Brazil (Wright).
Biography by Carol Johnson (2001)