Music in Ukraine was traditionally used for many reasons: for dancing, choral singing, church music and art songs (classical vocal pieces). During the Soviet Union era, music was highly controlled by the government and used for sharing political messages with the nation. There are various types of music found in Ukraine today: classical, folk, traditional/ethnic and popular music. Much of the music is used for dancing, singing and expressing culture.
Typical Instruments Used
Music History
Music can be composed to express and support national identities. During certain periods of history, traditional music of Ukraine was threatened by governing authorities because it supported a specific national identity. For example, Ukrainian classical music tradition of the nineteenth century was a combination of both classical music and Ukrainian folk music that was promoted by those opposed to Russian ruling. Composers like Mykola Lysenko (1842-1912) wrote music that identified the Ukrainian music culture as separate from the Russian music culture. This separation of music cultures was furthered in Ukrainian towns and villages with ballad songs (known as "dumy") that told of historical events through the eyes of Ukrainians, live music concerts, and the writing of revolutionary poems set to music. All of these music-based experiences helped to unite the illiterate peasant class together and challenged the various ruling Russian authorities that preceded the Ukrainian independence of 1991. Soviet officials were known to have forbidden traditional Ukrainian folk music to be performed or songs were changed to depict Soviet propaganda.[1]
Many traditional feasts, ceremonies (i.e. weddings, funerals, etc.) and religious gatherings in pre-Soviet Ukraine often used folk music. These traditions included a cappella group singing in rural singing style (known as "bilyi holos"), funeral wailing (known as "holosinnia") or trembita (a ten-foot long spruce horn) mountain performances.
Music was brought to various villagers by traveling musicians. These musicians were called "kobzari". These minstrels would sing the epic ballads (i.e. "dumy") and spread the stories of Ukrainian history and current events.  They sung their stories and often were accompanied on "kobza" (i.e. a lute-like instrument that preceded the "bandoura"). Like the Kobzari, the "Lirnyky" groups sang church psalms (i.e. "psalmy") accompanied on the loud hurdy-gurdy-type instrument called a "lira". To stop the spreading of history and events through the traveling musicians, the Soviet authorities gathered the Kobzari and Ukrainian music scholars together for mass execution in the 1930s and imprisonment in labor camps[2].
Songs that empowered people to religious and nationalist views not held by the Soviet authorities were not tolerated during the Soviet regime. A national collective of music and the arts was encouraged rather than an independent style.
Videos
Traditional Ukrainian Band
Video Overview: A Ukrainian band performing traditional dancing music. Can you hear the different instruments playing throughout the video?  Who do you notice that plays the melody along with the flute player?  To what instrument family does this large instrument belong?  Can you count how many string are on this instrument? Can you name this instrument?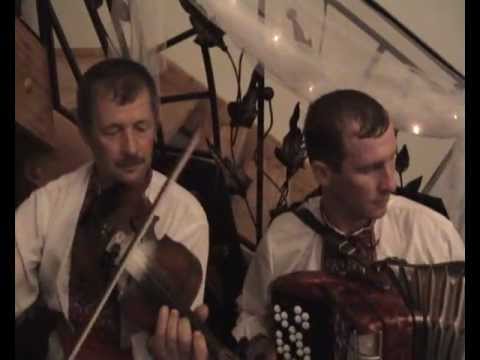 Ukrainian instrument craftsmen and Hutsul music
Video Overview: This instrument maker makes many instruments with wood. Notice how the different lengths of the flutes and how he plays the flute from the side of his mouth. How does he make the different pitches?  How many different instruments can you recognize?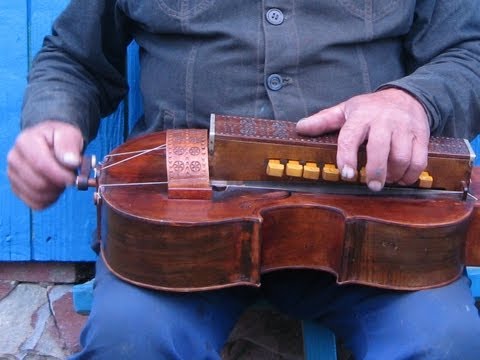 Ukrainian Shumka Dancers – Pathways to Hopak
Video Overview: A short sample of Canadian Shumka Dancing.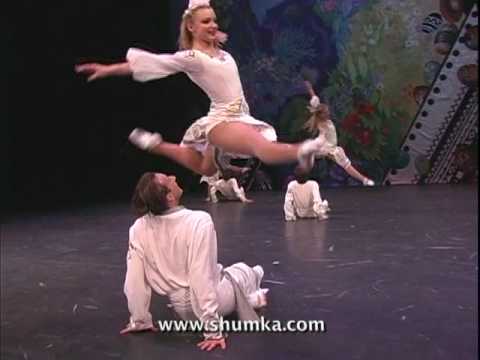 Ukrainian dance Hopak by Sonechko in Zhytomyr, Ukraine
Video Overview: Another sample of music in culture through dance.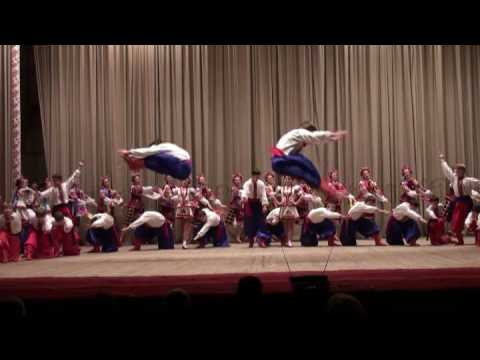 Further Resources
Examples of Ukrainian composers include: Mykola Lysenko, Lev Revutsky, Mykola Dremliuha, Yevhen Stankovych, Myroslav Skoryk.
To hear performances of solo Ukrainian instruments: http://vasyltkach.com/ru/content/samples
Further resources:
Boulton, Laura. 1942. Ukrainian Winter Holidays. National Film Board of Canada. Film.
Klymasz, Robert B. 1972. "'Sounds You Never Before Heard': Ukrainian Country Music in Canada." Ethnomusicology 16(3):372-380.
Lupul, Manoly R., ed. 1984. Visible Symbols: Cultural Expression among Canada's Ukrainians. Edmonton: Canadian Institute of Ukrainian Studies.
"Metro Radomsky: Orchestra Leader of Ukrainian Country Music." 1981. Forum 47:8-10. Spottswood, Richard. K. 1982. "Commercial Ethnic Recordings in the United States." In Ethnic Recordings in America: A Neglected Heritage. Studies in American Folklife, vol. 1. Washington, D.C.: American Folklife Center, Library of Congress.
---
[1] Helbig, A., Buranbaeva, O., Mladineo, V. (2009.) Culture and customs of Ukraine. Westport, CT: Greenwood Press.